Cobalto2
| Pendant light - Smart & LED.
The right mix of functionality and comfort with direct and indirect light emission completely designed and produced in Italy.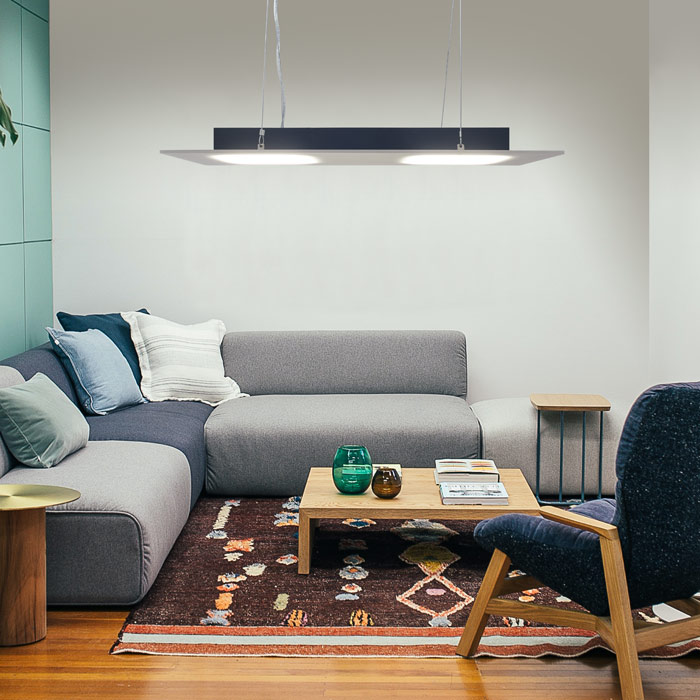 Cobalto
2
pendant light is designed to offer a combination of direct and indirect light that is able to shape a functional and comfortable light in order to ensure visual comfort and a welcoming atmosphere.
Light sources:
1.Direct emission LED (two light sources facing downwards)
2.LED with indirect emission (light source facing upwards) that allows you to create a soft light in the room.
The light sources (upper and lower) can be controlled separately.
Installation: pendant with integrated power supply that does not require the use of the canopy kit (not included).
The structure is made of plastic and plexiglass and is equipped with a transparent power cable and Y-shaped steel tie rods for ceiling mounting.
These materials and the production techniques allows us to customize this product according to your own needs.
It perfectly adapts to indoor environments like homes, offices, shops and public spaces. Thanks to the LED technology, consumption is significantly reduced while maintaining a very high light output.
IP Grade:
IP20 (internal use only)
Operating T°
from -20 °C to +40 °C

Light color:

warm white (3000°K) or cool white (5000°K)
Material:

plastic and plexiglass
Tie rods

stainless steel 1.4m
Down-facing diffuser:

upper black / lower opal
Upper-facing diffuser:

opal white
All Illunaluce lamps can be managed with the ezon.io APP and can be integrated into the ezon.io Smart Home Ecosystem.
Download the APP for free from App Store and Google Play
.
To find out more, visit the dedicated area
ezon.io